A small fish is born in the vast expanses of the ocean. It is full of hungry fish ready to eat the other defenseless underwater creatures. Take control of the small fish, who must be able to stand up for itself to survive. The more this small fish it eats, the bigger and more experienced it becomes. Get a definite number of scores for each eaten fish. You can increase your abilities, restrict movement, add or lose scores by eating other things. The vast expanses of the ocean are opento you: Feel Freedom!

Join your counterparts from all over the world and beat your best score! If your score is among the Top 10, you can upload it to our Web site and thousands of other players all over the world will be able to see your highscore! Are you up for the challenge? Download Born To Be Big and Play for Free!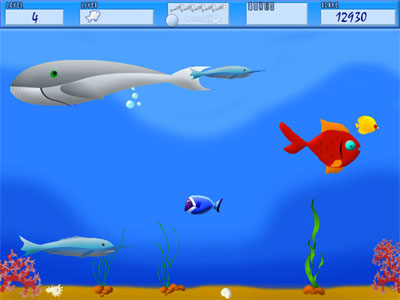 Features
Outstanding animated graphics
Full screen and window modes
Light-hearted background music and sound effects
Keyboard and Mouse control
User-friendly Interface
Install / Uninstall Support
Life-time technical support
Non-violent and fun for all ages
Absolutely FREE Fish Game!
System Requirements
Microsoft Windows NT/2000/XP or better
Pentium 200mhz or better
64 MB RAM
15 MB hard drive space
800x600 display resolution mode or higher
High or true color highly recommended
DirectX 5.0 or better
Play Fish Game for Free!
Screenshots